We have dance programs for adults, too!
We offer weekly ballet and modern classes for adults as well as Pilates and tap classes at our Grace United studio. Adult classes follow a different schedule than children's classes, generally running throughout the year. We recommend calling the office to confirm class schedules.
Ballet
Intermediate/advanced ballet classes are held Sundays noon to 1:30.  Sunday classes are taught by a rotating schedule of teachers, generally current or former members of Houston Ballet.
Drop in rate for 90 minute adult ballet classes is $20.  Class cards are available for $150 for 10 classes or $90 for 5 classes. Cards may be used for Tuesday, Saturday or Sunday classes. Cards are valid for 4 months.
Modern/Contemporary
This beginning contemporary dance class is accessible to everyone. Beginning with a warm-up on the floor, the class includes center exercises and traveling steps which focus attention on the effects of gravity.  Combinations emphasize "following the breath" and gesture.  Incorporating energy as well as flow, the class also includes play with rhythm. Fall 2018 classes are Thursdays at 6:30-7:30 p.m. in Studio C, second floor of our Grace United location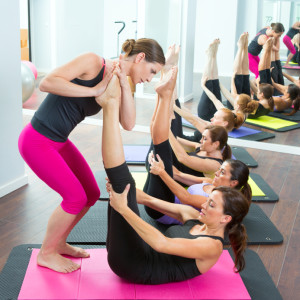 Pilates
   Pilates is a system of exercise that builds strength in upper arms, the back and abdominals. It incorporates  stretching to  build flexibility and balance.  Its focus on mental concentration and effort refreshes the mind as it de-stresses the body. Pilates can help relieve strain on joints by improving your posture.
Our Pilates mat classes are open to all levels. We provide mats as well as small equipment such as stretch bands, small hand weights, and exercise balls. Attire is comfortable clothing you can move in. Tee shirt and leggings are fine.  Bare feet. Students are encouraged to bring bottled water.
Pilates classes are on hiatus for the summer. Contact our office for information about fall classes.
Flamenco
This beginning adult class in flamenco offers instruction in footwork, arms, and the rhythms of this rich, percussive dance form. Attire is a leotard or t-shirt with leggings and a long skirt. Flamenco shoes. Classes are held Saturday mornings at 11:45 a.m in Studio C, second floor of our Grace United location.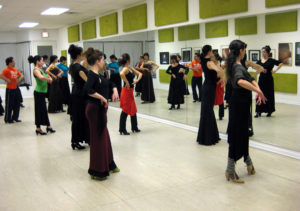 Tap
Our Grace United studio is also home to Tap Classes with Sara Draper.  Classes include
Introductory Tap
Beginning I Tap
Beginning II Tap
Intermediate Tap
TapAerobics
Occasional Tap Master Classes and special events
For more information, current schedule information, registration, and other details, please visit the tap pages of www.saradraper.com.