Each Christmas season, the Claire School of Dance performs The Nutcracker… with a twist! Our New York Nutcracker takes the music from Tchaikovsky's holiday classic, adds a dash of the swinging Duke Ellington and a hint of Ella Fitzgerald, and mixes in the sass (and color scheme!) of Eloise at Christmastime.
 What Parents Need to Know: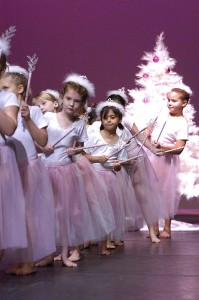 Click here to download the 2015 New York Nutcracker Guidelines for Parents. Click here to download the 2015 Permission Slip.
All students enrolled at the Claire School of Dance at the primary level or higher are given roles to perform in the New York Nutcracker.
Participation is on an "opt out" basis. Parents must notify the office via email or written communication by October 17th if they do not wish their child to participate. Failure to notify the office that a child is "opting out" may result in the assessment of the performance fee.
There will be a $150 performance fee for each performer. ($200, if student does a second dance.) This helps cover the cost of costumes and other performance expenses. Each child receives two free tickets as part of her performance fee.
No child will be denied the opportunity to perform due to lack of funds. A scholarship fund is available to help cover the cost of the performance fee.
Scholarship requests should be made by October 17th.
Payment of the performance fee is due by October 17th.
Costumes remain the property of the Claire School of Dance.
In order to respect the time of parents, most rehearsals will take place during regular class times.
There will be one general run-through rehearsal Saturday the 12th, the day before the performance, also at our St. John's School. ALL performers MUST be present at this rehearsal as it will be the only time all performers rehearse together.
The general run-through rehearsal will take place 1:30 to 4 pm at the Lowe Theatre of St. John's School, Westheimer at Buffalo Speedway.
Tickets, t-shirts and DVDs:
Tickets are $10 for children and $15 for adults. Tickets go on sale December 5

th

.
T-shirts are $20. Order sheets will be placed in each waiting room. All orders must be placed by November 7th.
T-shirt orders may be picked up starting December 5th.  Saturday, December 5th, tickets and t shirts may be picked up at Grace United 10 a.m. to noon, OR at Lambert Hall Monday December 7th 4:
DVDs are $25. Orders must be placed by December 16th.
Parents leave their children at the theatre 9:30am Sunday morning, with a bag lunch. Dress rehearsal will start at 10:30am. On the day of the show:
All children will be under adult supervision at all times. Children are welcome to bring books and crayons.
The performance starts at 2:00pm and runs just under one hour and a half.
St. John's Theatre has 600 seats – plenty of room for all your friends.
We look forward to another wonderful Nutcracker!!