We have dance programs for adults, too!
We offer weekly ballet and tap classes for adults at our Grace United studio. Adult classes follow a different schedule than children's classes, generally running throughout the year. We recommend calling the office to confirm class schedules.
Ballet
Intermediate/advanced ballet classes are held Sundays noon to 1:30.  Sunday classes are taught by a rotating schedule of teachers, generally current or former members of Houston Ballet.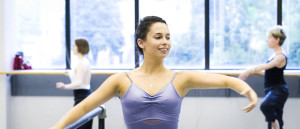 Drop in rate for 90 minute adult ballet classes is $20.  Class cards are available for $150 for 10 classes or $90 for 5 classes. Cards may be used for Tuesday, Saturday or Sunday classes. Cards are valid for 4 months.
Tap
Our Grace United studio is also home to Tap Classes with Sara Draper.  Classes include
Introductory Tap
Beginning I Tap
Beginning II Tap
Intermediate Tap
TapAerobics
Occasional Tap Master Classes and special events
For more information, current schedule information, registration, and other details, please visit TapHappyDance.com or call  832-995-9004.