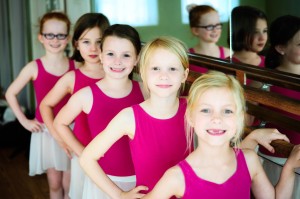 Welcome to the Claire School of Dance!
At the Claire School of Dance, children are transported to the wonderful world of music and movement.
Our diverse programs range from weekly classes to summer camps. Our Early Childhood Program provides creative movement and pre-ballet for children 1½ through 6, while children 7 and up take classes in ballet, tap and modern. Every spring, students preballet and up are eligible to perform in an original annual production.  Our Fairy Magic Dance Camp as well as camps including Ooh la la! Paris! camp, Camp Cupcake and more provide a summer experience full of movement and magic. Our Summer Intensive provides the opportunity for students to keep technique fresh during the summer months or explore new styles of dance. At the Claire School of Dance, we specialize in stimulating a child's imagination and encouraging individual creativity.
The Claire School of Dance is a boutique school, providing professional dance education in a small class environment which allows for individual instruction and attention. Through diverse programs ranging from weekly classes and performance opportunities to summer camps, we hone our students' technical skills and broaden their artistic education and personal development, while stimulating their imaginations and encouraging individual creativity.
Our programs develop the self-discipline and commitment which are the building blocks of achievement, and provide careful development of placement and technique while giving students the opportunity to explore the joy of movement.
Our school follows the American Ballet Theatre National Training Curriculum. Many of our ballet teachers have been certified by ABT. All teachers receive training and curriculum guidelines to ensure continuity of training for our students.
Our students have been accepted into Houston Ballet Academy, the Alvin Ailey Summer Intensive, the ABT Summer Intensive, The Rock, and HSPVA.  An integral part of the Houston dance community, our focus on accomplishment, camaraderie, and respect for diversity has given us a reputation for excellence and a nurturing environment.
Claire School of Dance — where we make dancers and memories.
Grace United Methodist Church generously provides space for Claire School of Dance as part of their ministry to the children of the Heights community.