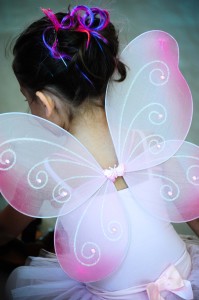 Birthday parties are fun at Claire School of Dance!
Parties are held at our Grace United location. Included in our two hour birthday party package:
a special flower fairy crown and tutu for the birthday girl,
fairy crowns for 11 guests,
a 30 or 45 minute creative movement class,
use of our party room for cake and ice cream.
We have a refrigerator available for ice cream and beverages. You may have access to the room ahead of time if you would like to decorate. (Only mounting putty may be used on wall or cabinets. No scotch tape may be used.)
Our facilities include two tables, each comfortably seating 8 and each fitting a standard oblong tablecloth,  as well as a table to hold your birthday cake and a credenza for your beverages and/or additional food.
The fee for our birthday parties is $250.  The fee must be paid in full at the time of reservation.
Our standard package includes the birthday girl and 11 guests but we can accommodate up to 15 guests. Additional guests beyond the 11 included in the standard package are $5 a head up to 15 guests.
Parties larger than 12 may require an additional teacher. Parties larger than 16 will require an additional teacher as well as additional seating arrangements.   If you wish to have a larger party, contact our office for pricing information.