Parents Day Demonstrations  
All CM1, CM2, CM3, and the Saturday tap classes at Lambert Hall and Grace United will have their last class and Demonstration in class, the week of May 7th.  Parents are invited to watch what the children have learned. All children will receive fairy crowns and flowers. NO MAKEUPS ARE ALLOWED IN MAY.
If your child DOES NOT wear a uniform, her demonstration is in class. If she DOES wear a uniform, her class is part of the May 20th performance.
Students at Cathedral House have their Demonstration May 11th . See the bulletin board at Cathedral House for  the schedule.
Sweets for the Sweet!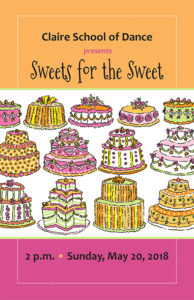 Students who are in Preballet, Primary, Modern, Wednesday tap, or any Level ballet class and who are participating in Sweets for the Sweet! have their performance Sunday, May 20th at 2 p.m. at St. John's School (same theatre as the Nutcracker).
Recital Ticket Orders
Sign up sheets for ticket orders are in all waiting rooms. Price and pick up info is  on the sign up sheet.
Recital DVD Orders
We will be videotaping the recital at St. John's. Order sheets for DVDs are posted in all waiting rooms and at the Demonstration.
Recital Bouquet Orders
Order forms are in all waiting rooms for our "royal" recital bouquet. Bouquets feature roses and a crown ornament and are $20, tax included.
WE NEED YOUR HELP:  Backstage "Mamas"
We are asking for volunteer moms to sit with the children during Saturday morning rehearsals and Sunday dress rehearsal and the performance. These moms will also assist getting children to and from the stage and to and from their photo session backstage (Saturday and Sunday) as well as during the lunch break between dress rehearsal and performance. We also need help with wigs and makeup. Sign up sheets in all waiting rooms. Orientation meeting  10 a.m. Saturday, May 12th at Grace United.
Order your Photo Day photos!
Click on this link to see the gallery and place your orders.  These photos are always GORGEOUS!  https://alisamurrayphoto.photoshelter.com/gallery-collection/Claires-School-of-Dance/C0000kMulZlLaJAU
Summer  & Fall Programs
We have limited spaces in our summer camps and classes. You may register online at www.clairedance.com.
Fall Registration Open
Registration is also open for fall. Placement books are in waiting rooms at both Lambert and Grace. Consult these, or your teacher, if you have questions about class placement for summer or fall. Spaces do go quickly so sign up now!
/wp-content/uploads/2014/04/CSDlogo-300x86.png
0
0
MsClaire
/wp-content/uploads/2014/04/CSDlogo-300x86.png
MsClaire
2018-04-29 18:08:18
2018-04-29 18:08:22
May 2018