Fall Classes Start Tuesday, September 5th.
Our academic school year begins Tuesday, September 5th. Registration is online and open! We are a boutique school with small classes and individual attention. Registration NOW to reserve your spot!
New Adult Class: Mindfulness through Movement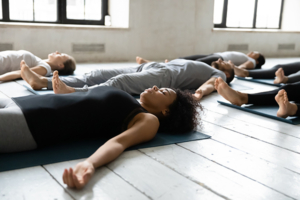 New this fall is our Saturday Body Awareness class for adults, held noon to 1 p.m. This gentle system of movement helps reduce tension, restore balance, and increase well-being while stretching and strengthening crucial muscular systems. No previous experience necessary. Drop-in rate is $20. Starting Saturday, Sept. 9th. First class is free!
Sept Unit Study – Blues Music
Our first unit study of the new school year is the musical form, the blues. Among the musicians we'll be listening to are W. C. Handy, Louis Armstrong, Albert King, and Stevie Ray Vaughan. Check out poster links via QR code.
Parent Handbook
To keep parents better informed, a CSD Parent Handbook, is downloadable from the "About" menu on our website. Be sure to download your copy now!
Dance in Houston
Sept 2.  3rd Annual Texas Latino/a/x Contemporary Dance Festival. MATCH. Info: match.org.
Sept 16-17. Alice. MOMIX. Wortham Theatre. Info: PerformingartsHouston.org.
Sept 21.  Dance of the Insects. Young Audiences. Miller Outdoor Theatre. Info: YAHouston.org.