Student Spotlight: Serianna Hixson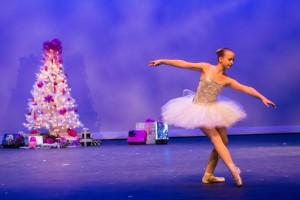 Serianna Hixson, a student of the Claire School of Dance since she was four years old, has been accepted into the Ben Stevenson Academy of Dance at Houston Ballet, where she will begin classes in January 2016.
Serianna started taking creative movement classes with Ms. Claire at Country Day Montessori School.  Serianna's mother, Nicole Broyles, says she remembers that experience as a "sweet time, everything was about discovery."  Serianna's dad, George Hixson, says "that was when Serianna first experienced dance and it stuck."  Serianna took a year of gymnastics and then returned to the Claire School of Dance, this time at the Heights locations, where she remained until this year.
Serianna, now a student at Johnson Middle School, says she always wanted to be a dancer. "My training here (at CSD) prepared me a lot for auditions.   Broyles interjects, "She's always gotten good advice here as well. One of her teachers, Jen Sommers, encouraged her to try out for Houston Ballet Academy, saying she probably wouldn't make it, but that the experience of seeing the other dancers would put the work ahead of her into context."  Broyles continues, "It was good advice that prepared Serianna for the hard things ahead."
Caroline Hamilton, one of Serianna's classmates and now a student at the well-known ballet conservatory The Rock , was a role model.  Just a little older than Serianna, Caroline set an example of the need to keep on working.  "You have to work hard," says Broyles, "in ballet the work ethic is fundamental and that's true in the work world as well.  People in the performing arts are great at sticking to the work, regardless of rejection, and coming up with creative approaches." Hixson, Serianna's dad, echoes this sentiment, "A work ethic applies to life in general."
All members of the Hixson family concurred that one of the important aspects of the Claire School of Dance was its focus on the individual and its supportive environment.  "There's a sheltering quality that comes from being a small school that gives the girls a certain self-confidence," says dad Hixson.  "Even if you don't end up being a dancer, that sense of knowing yourself prepares you for whatever you pursue."
Broyles chimes in, "That warm feeling of support, of community, of being challenging but comfortable is, I think, unique to the Claire School of Dance."
Broyles also credits the dance program at Johnston for Serianna's progress.  "At Johnston, Serianna takes class every day. That has definitely made a difference.  Then too the dance teacher at Johnston, Mr. Peters, is demanding. He makes the students take responsibility for their own development." Broyles smiles. "Something all dance teachers have in common, I think."
When asked for her strongest memory of CSD, Serianna says "getting a solo this year helped improve my focus because I could focus on my own dancing. I got a lot out of recitals too because you can see how much you've grown year to year. Performing gets you ready."
/wp-content/uploads/2014/04/CSDlogo-300x86.png
0
0
MsClaire
/wp-content/uploads/2014/04/CSDlogo-300x86.png
MsClaire
2016-01-02 19:09:07
2016-01-02 19:34:25
Student Spotlight: Serianna Hixson